The time where I meet a sexologist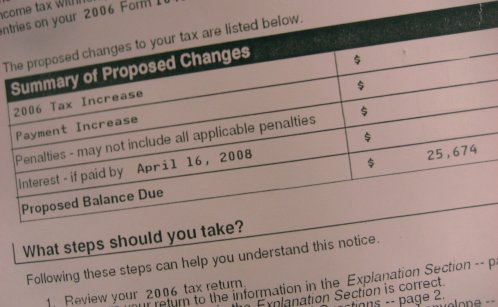 Won't be posting much this week. Getting audited. I've got 24 days to come up with $25,674. I really dunno how much more pressure a man can take.
Life's…stressful.
Friday I saw Hazel and her pretty friend, Helen. We chatted about life and love out in the wilds of Long Island. Then I drove them home. The weekend was off to a good start.
Until the letter above came in Saturday morning. Gio rang me and said we had to go out to a party in the Upper East Side. A party in UES's like a party in the wilds of Long Island. But I went anyway.
Glad I did. I met a beautiful Sexologist who refused to kiss me.
Her: You have to work for it.
Me: (laughing) Fair enough.
Of course, she was 23. Not a pescatarian and not from NJ, though – Philly. We called it a night at 4AM and she told me to look her up when I was in her part of the world.
Me: If I go, can we get a cheesesteak?
Her: Cheesesteak's a must.
Rolled out of bed a few hours later and worked non-stop. Paul and Hazel wanted to buy me brunch and Rain wanted to shoot me dough but charity and pity ain't my thing. Rum's my thing.
Stopped so I could make church on time at at 16:30; stayed until 19:45. Was walking home when I ran into lovely Jenny. Coffee and conversation? I asked. She nodded and we went to a bookstore where I told her about my life. And she told me about her's.
She said her dramas seemed small compared to mine. I shook my head. Heartache doesn't work that that way – there're no absolute values of pain. Anyway…let's actually plan to do this again instead of leaving it to chance, I said. She laughed and we left.
Hopping into my whip, I raced across the city see the woman I love most in the world. When I arrived, she beamed and gave me a huge hug.
Her: How was your Easter weekend?
Me: Could have been better, mom. Could have been better.
Gave her a kiss on the cheek and went downstairs where I sat by my lonesome. Took a deep breath, bowed my head, and asked for some grace and mercy. I ate, washed and took some poison to sleep. Could have been better but could have been worse, I guess.
I told you, yeah? There's always more room for down.
Location: on a new leather couch that's not mine
Mood: so very tired
Music: pressure pressure pressure AAAAAAAhhh…pressure pressure pressure