Yo-Yo, the Philosopher
Back before I met Alison, I recall writing emails to women on behalf of my friends, or – at the very least – editing them.
Now, with everyone texting these days, I find myself being asked by friends to respond to messages from women. It's all pretty amusing for me, gotta say.
I was trying to explain to one friend that communication isn't just what you say but what the listener/reader hears.
To further drive the point home, I told him something that I tell my friends alla time but also gave him two versions of the same concept: The first is by Thucydides during the Seige of Melos and the second by a kid called Yo-Yo in my junior high school.
On a related note, a young woman in my gym is going back to college – an ivy league – and wondering what she should pick as her major if she wants to go to law school.
Been telling her that, if that's the case, she should really consider philosophy and read more from people like Thucydides – although, admittedly, he's more of a historian than straight philosopher.
I actually never took any philosophy classes as an undergrad and it's a regret of mine.
As for my own dating life, I saw the Acrobat and the Counselor recently, which is always entertaining, conversation-wise and otherwise.
Me: (noticing her ordering an open drink) Aren't you concerned about roofies?
Her: With you? No. Not even sure I'd object. No wait, I would. I'd want to be awake for that.
Me: Noted.
The Counselor was actually in my area doing a cold sauna, for people with inflammation (everyone has inflammation to varying degrees).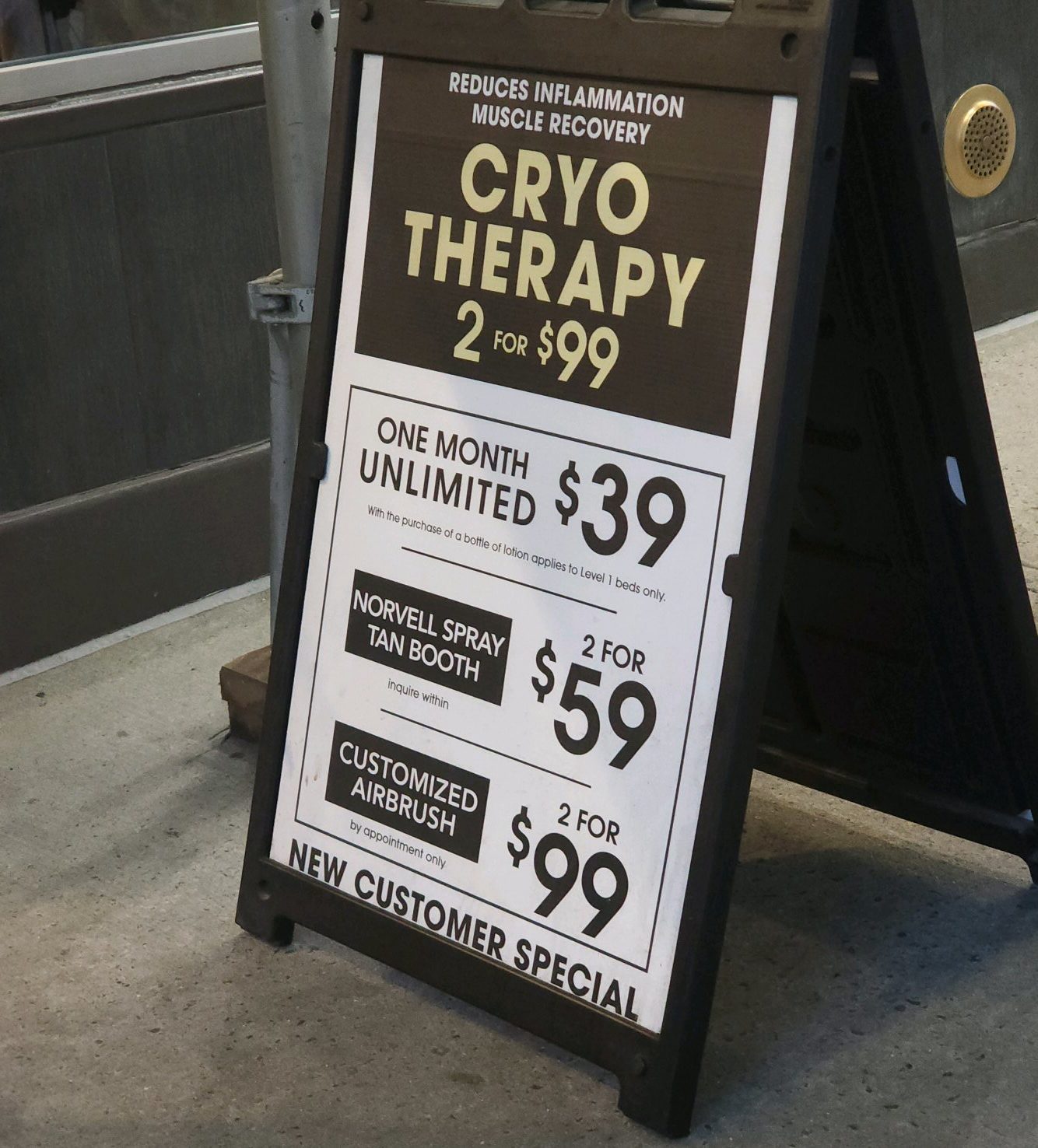 The concept is to step into a super cold – negative 140 degrees Celsius – room and just be there for three minutes.
She was part ice cube when I met up with her.
Her: It was so cold, Logan!
Me: (laughing) I can imagine.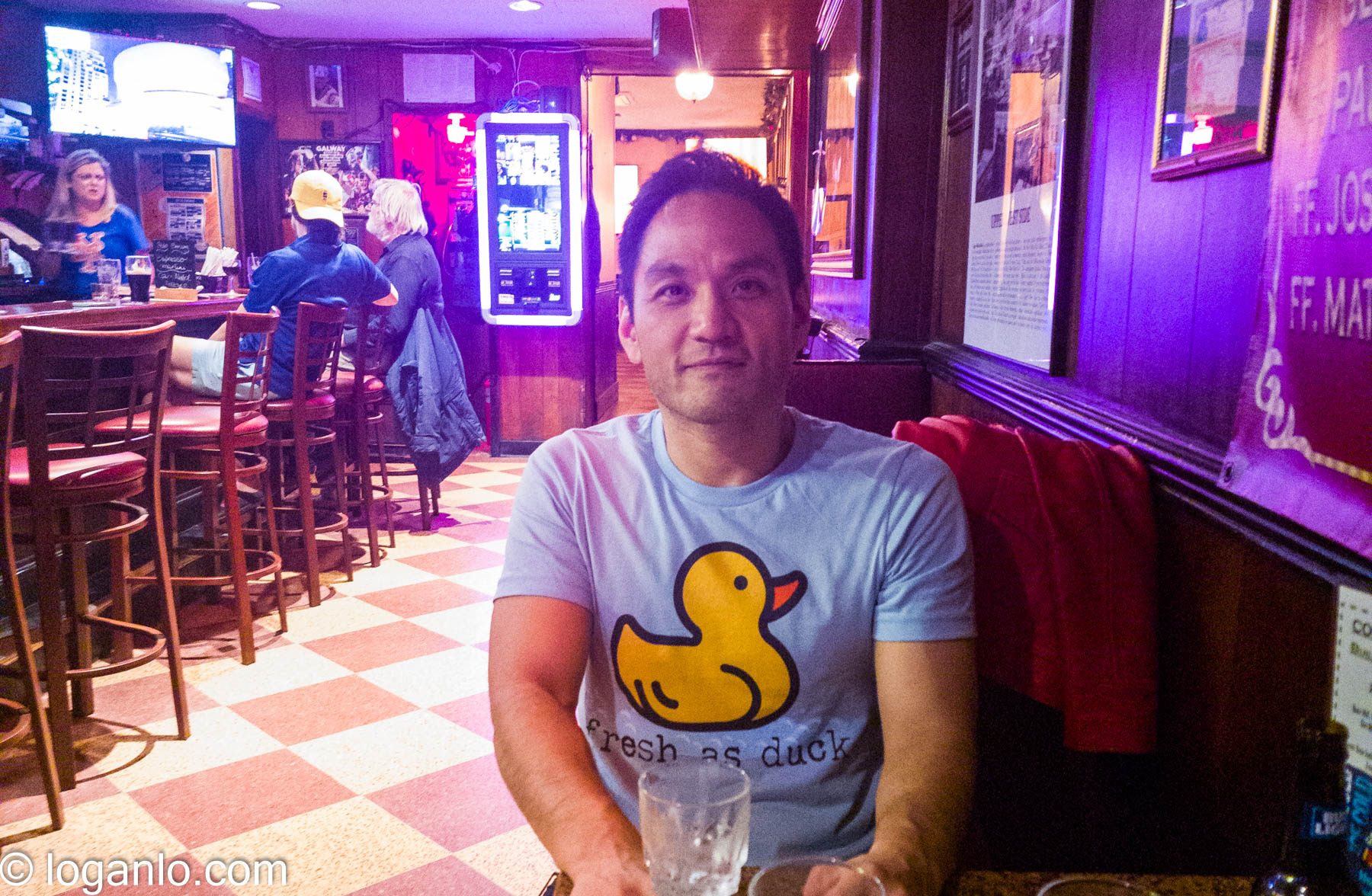 We ended up going to the Dublin House, which I've actually never been to, despite it being only a few blocks south of me and one of the oldest bars in NYC with a really cool neon sign that was recently rehabed.
Me: You should take advantage of me while you can. These looks won't last forever.
Her: (shrugging) I figure that if you were going to fall apart, it would have happened already.
The Dublin House was cool but without air conditioning so we went to another of my usual bars around the way.
This one had both air conditioning and candy all over the place. Unfortunately, I'm dieting for a couple of things coming up so I ended up trying to hand the candy to other people so I wouldn't be tempted.
We've both been so busy that we've not actually seen each other in a while so we ended up chatting most of the evening.
Her: My last boyfriend was closer in age to my dad than me.
Me: No kidding. What was the age difference?
Her: (thinking) 15 years?
Me: Wait, that's the difference between us.
Her: Oh! You're right. I forget.
Location: sitting in front of a 14TB external USB drive at 5400RPM and an 8TB external USB drive at 7200RPM with a USB-C hub and wondering if I should shuck both, and then swap the internals.
Mood: super tired
Music: Fell in love with a girl who's a few years younger (Spotify)


Subscribe!
Like this post? Tell someone about it by clicking a button below.