Decided to play some hooky today
Me: Can we tell people that I'm good at math? They'd believe that cause I'm Asian.
Her: What are my people known for?
Me: Um, colonizing minorities, spheres of influence, plying my people with opium, the usual.
Her: Not my people. We were too busy dying of potato famine.
Killed a fly today by kicking it as it landed on the wall. Felt very proud. I'm sure it means little to you, but I'm 36. Being fast enough to kill a fly on the wall with your feet is a big thing to me.
Really gotta get out more.
Speaking of getting out, and to continue from the previous post, last night, took Heartgirl to Kuma Inn where we downed some excellent Filipino food – if you're gonna go, you need reservations, then you got 90 minutes to eat. If you're going on a date, bring your own bottle of wine (no rum allowed, I'm afraid) and ask for the corner table.
She and I played hooky today and we sat in the sun for some Mexican food. Later that night, saw Nick and Nora's Infinite Playlist.
The real Nick and Nora were based on a old book/movie called The Thin Man. If you like how I write, consider reading some hardboiled crime drama. It's what I actually write when I'm not writing this blog.
Dunno if I ever told you that.
Been working on a novel for eight years. Really should tie that up. You'd buy a copy, yeah?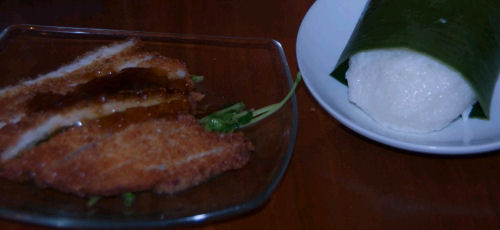 Location: 14:00 yest, 86th and Columbus
Mood: oddly hungry
Music: minutes, it's been days, it's been all I will remember