Went to two 40th birthday parties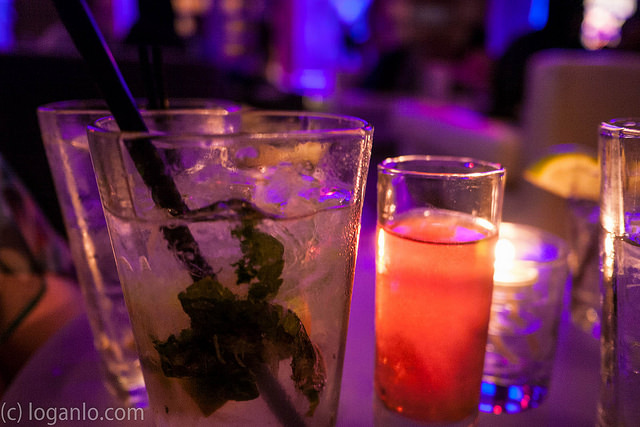 Three friends turned 40 over the weekend so there were three events on Saturday I had to go to. Only made it to two of them. My liver barely made it through the second one.
The memory card that had all the pics that I took didn't make it at all.
I'm so bummed, I had some great shots. That is before everything turned very blurry.
Me: Happy 40th! It's all downhill from here.
Him: Hey, thanks for coming!
Me: Of course I was coming.
The first one was with my buddy Rick, whom I've known since college. We met 21 years ago, a number I'm still having difficultly wrapping my head around.
His wife took out an entire half of the Experimental Cocktail Club, which was very cool. (Damn, I wish I had some pictures to show you). And she had an open bar, which was even cooler. But the coolest thing? Top shelf rum I've never had.
French Bartender: You're a rum drinker? I've got something for you. It's a French rum aged in cognac barrels.
Me: Can I drink it neat?
Him: (slightly offended) But of course!
Had much more than I should have. After some catching up with people I'd not seen in ages, dashed/stumbled off to the second joint.
That party was for the owner of Evolution Muay Thai, where another buddy Kung and The Ultimate Fighter contestant Angela Hill were. Angela told me some cool stories behind the scenes, none of which I can reprint here.
Hadn't meant to stay quite as long as I did  but people – mostly Kung – kept buying me drinks.
Me: I can't, I'm already snockered.
Him: (handing me drink) Too late – got you some rum.
Managed to get drinks spilled on me on me not once, not twice, but thrice.
Him: You're going back to the bathroom!? You just came out!
Me: You just spilled on me again!
Him: Ooooh, my bad.
Had my revenge the next morning, though.
Me: How ya feeling? I had rum all night so I feel pretty good. RUM IS THE BEST. Sorry, I shouldn't shout. What time did you call it a night?
Kung: 4 or so. Today is a lost day
Me: Ouch. Hopefully you can stay home and coffee it up.
Him: Oh yeah! I'm building a pillow fort.
Me: That's why I build one the night before. It's all about proper planning.
Him: Last night I was lucky to find my bed when I got home.
Me: Found bed, missed toilet. The wife will not be pleased when she returns.
Location: yesterday, with a pot of coffee
Mood: ready for the week
Music: My oh my oh my what a wonder, my oh my oh my what a wonder


 Subscribe!
Like this post? Tell someone about it by clicking a button below.
Related articles