On a first date, do you do the hug or handshake?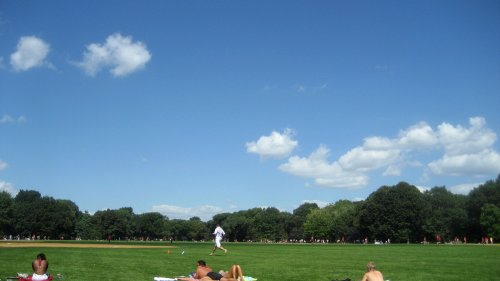 Me: Hi there. (pause) Ah, the awkward, Hug or handshake?
Her: (smiling) I'll give you the hug.
Because of the craziness of various things in my personal/business life, I've not been dating at all. But, as I said yesterday, on Sunday I met up with a pretty green-eyed school teacher for a cup of coffee and we had the best time – the weather was killer and we just walked about the neighborhood. It was probably the most relaxed I'd been in while.
For a few hours at least, I forgot about my worries. I'm supposed to see her again this week.
It's funny, even in my darkest hours, I can still find ways to distract myself with utter randomness. Case in point, I was queuing in the bank the other day:
Female Teller 1: (handing me receipt) Is there anything else?
Me: Yeah, (pointing to Female Teller 2) What's her name?
Both: Lisa
Me: (turning to Female Teller 2) Hello, Lisa.
All three of us laughed and then I politely excused myself. The rest of the week sucked but I live for the weekend and these random bits of entertainment.
That and the blue sky, of course.
Location: 20:00 yest., on the 7 train, coming home
Mood: concerned
Music: rescue me lemme have a good time