Great occasions don't make heroes or cowards; they reveal them
This fella named Brooke Foss Westcott once said that, Great occasions do not make heroes or cowards; they simply unveil them to the eyes of men. Silently and imperceptibly, as we wake or sleep, we grow strong or weak; and at last some crisis shows what we have become.
This is onea my core beliefs, that we create our three lives in our sleep and by our lonely, and they're often hidden, many times even from ourselves.
We find out, only at some great calamity, if we're rubies or rubbish.
Don't watch sports. At all really – think it has something to do with the fact that no one ever invited me to play.
But I've been watching a few basketball games to see about Jeremy Lin. It's truly impressive.
Think he had suspicions of what he was made of all this time but never knew for sure. He only became who he was meant to be when the occasion finally presented itself. Before then, he kept getting passed over and ignored for years. Yet he kept on going.
This reminded me of something my father told me once when he was a lawyer gutting fish for a living. He said that he knew what he was made of even if others didn't.
He also told me – at the lowest point of my life – that he'd only be disappointed in me if I stopped.
Y'either keep going or stop because of the suspicions you have inside. For me, there's no stopping anytime.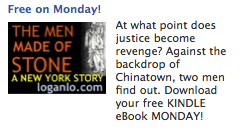 ———-
And here's a video from my buddy. I miss making videos myself but I'm stretched pretty thin as it is.
Location: running to meet a client in the Village
Mood: ambitious
Music: you're on a roll, no one gets it, no one gets it

Subscribe!