Change is the only constant in life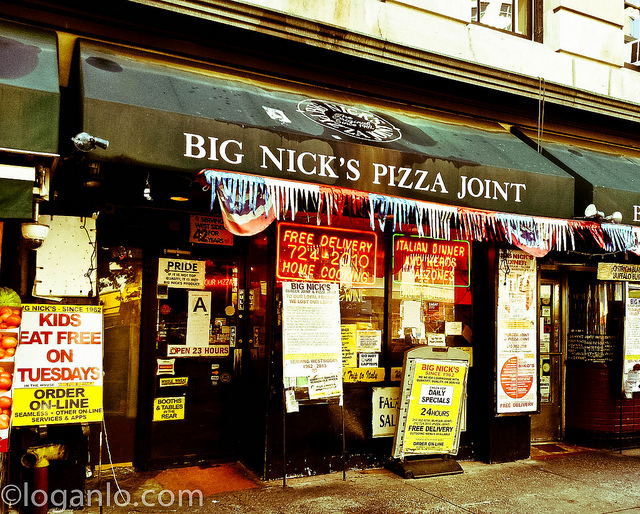 I first moved into my neighborhood 17 years ago.
Back then it was kinda dive-y but I was younger and stupider then. Back then, the legendary P&G Bar – which you might know from the Runaway Bride or any number of other films – and the Yogi's Bar were typical for the neighborhood.
Al Pachino's Needle Park took place just a few blocks from my doorstep and the film the Warriors had shots all over my hood including the 95th Street Station exterior shots.
After Trump moved into the area and fixed up the pier and they installed the new subway station at West 73rd Street, the place really took off.
As you know, I don't lament the passing of old New York all that much; after all, no one that was born poor wants to stay poor.
But last week, my old haunt, Big Nicks closed. Their menu was as big as a book and if you wanted a bagel, slice of pizza, foot-long hotdog, and a side of gyro with chili at 2:34 AM, they had it. With a Fosters beer, for some strange reason.
As an insomniac, wrote a lot of stuff there; a lot of The Men Made of Stone was done in front of greasy plates there.
That leaves me with two dive bars left in the UWS.
There's this poem in Chinese I like that goes:
shao xiao li jia lao da hui, xiang yin wu gai bin mao shuai.
er tong xiang jian bu xiang shi ,xiao wen ke cong he chu lai.
少 小 离 家 老 大 回, 乡 音 无 改 鬓 毛 衰.
儿 童 相 见 不 相 识, 笑 问 客 从 何 处 来?
Basically, this dude leaves his hometown and comes back an old man for the first time in decades. He sees children playing and laughing – like he did with his childhood friends – but they're not him, and they're not his friends.
But they're just like him and them when they were kids.
And they call out to him: Hello stranger! And it's nostalgic and sad in the sense that he's now a stranger in his own hometown – it doesn't recognize him and he doesn't recognize it.
I think one day I'll leave here and everything will have changed and be like I remember it, but not.
Suppose that's true anywhere.
More practically: Dammit, there's no place else now to get a bagel, slice of pizza, foot-long hotdog, a side of gyro,  with chili and a Fosters Beer at 2:34 AM.
I wish some things stayed the same.
Not all. Just some.
In other news, went to see the folks last night. It looked and felt like spring.
Location: the UWS that's changing too fast for me
Mood: busy
Music: Try imagining a place where it's always safe and warm

Subscribe!

Like this post? Tell someone about it by clicking a button below.
Related articles