Demons and Darth Vader on the Washington National Cathedral
Been sick so the insomnia's been pretty bad.
Have you ever heard the saying, When you gaze long into an abyss, the abyss also gazes into you?
It's from Friedrich Nietzsche's "Beyond Good and Evil," and the full quote goes:
Whoever fights monsters should see to it that in the process he does not become a monster. And when you look into the abyss, the abyss also looks into you.
In a nutshell, the idea is that, as you fight demons, you have to be careful not to let the demons affect you so much that you're consumed by them. And potentially even become one of them.
We see it all the time in literature and movies: Oedipus, Macbeth,  Darth Vader, etc.
It's an explanation as to why narcotics cops can become dealers and defense lawyers become criminals themselves. It's why we have to always be on our guard.
But lately, at night when I'm awake, the demons come and sit beside me and tell me that it won't be ok.
And there's always a possibility they're right. So I listen to them.
For now, at least, they seem to be wrong and I hold out hope.
Him: I've got some good news!
Me: Man, I could use some. What is it?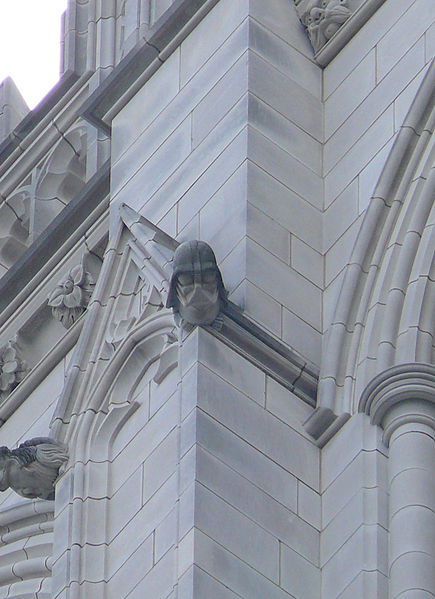 A lot of people don't realize that there is a grotesque of Darth Vader carved into the Washington National Cathedral in Washington DC.
It makes sense, doesn't it? To have our modern devils beside our historic ones?
Location: an hour ago, still in bed sick
Mood: still sick, but less anxious
Music: I can't wait, I can't wait, I can't wait

Subscribe!
Like this post? Tell someone about it by clicking a button below.
Related articles