Good luck and good day
Me: You want some Sriracha?
Chad: (covers his entire meal with it).
Mouse: That's a lot of Sriracha!
Me: I've made him into a man now, Mouse.
Chad: (nods, doesn't stop eating)
People keep calling me to help out with these projects and I take what work I feel I'm a right fit for or if I want to help someone out.
You know that I don't advertise? Been working for myself for over two decades and I've never advertised anything ever beyond this blog, I suppose. Maybe a few things, here and there.
Huy Fong, the makers of Sriracha also never advertised. They got by purely on their reputation. Must be an Asian thing.
Anywho, a lawyer buddy of mine asked me to help out with a client so, as a favour to him, I reached out to her and sent her what I could do and what I would charge.
Her: That seems excessive for a few pages of paper.
Me: I couldn't agree more. You can probably find someone much cheaper with the New York Country Bar Association. You can ring up a lovely woman named Hannah there at 212-267-6646, ext. 217 to find someone else.
Her: Wait, but…
Me: 212-267-6646, ext. 217. Hannah. With two H's and two N's. Good luck and good day, madam.
I know what I'm worth and I don't have the time or interest in convincing anyone of my value.
On that note, last week was one of my busier work weeks in a while.
On the flip side, I can also remember sitting at home waiting for the phone to ring. Of course, that was before everything in my life turned to shit.
Speaking of sitting at home, like I said earlier, Chad broke his foot but he's a teacher by nature, so he's definitely going stir crazy locked in his pad.
And Cho just got a new whip.
So, I offered for them to come by – along with Mouse – and roll in exchange for some food and entertainment.
And on a random weekday night, they were here.
We were all grateful for the lesson and I think Chad was grateful to just be on a mat again. He literally walked in – or hobbled in – and lay on the mat for a moment and sighed.
Just like the first time he came over.
After our lesson, he asked if we had any questions.
Me: About what you just taught or life?
Chad: We don't have that much time, Logan.
Me: Well, I've got a lot going on.
Him: We all have problems, Logan!
Me: You don't have to yell.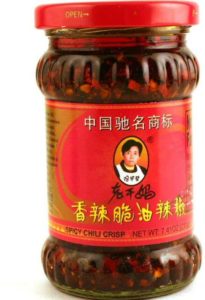 Pro tip: If you see a bottle of Lao Gan Ma Crispy Chili, buy it. You'll be ahead of the curve. Trust me on this.
It'll be the next big thing.
Podcast Version
Location: earlier today, trying to break an arm
Mood: tired
Music: I don't want somebody like you (Spotify)


Subscribe!
Like this post? Tell someone about it by clicking a button below.