It's about the money
I interrupt my usual talk about nuthin to discuss yet another topic I know very little about. As you read this, please keep in mind that I'm basically a stay-at-home dad that owns a gym so everything I'm about to say is most likely nonsense.
Just like everyone else in the world, I think I'm right, though.
---
In 2015, Sen. John McCain (R-Ariz.) said that "Russia is a gas station masquerading as a country."
This was echoed recently by Harvard economist Jason Furman who went further to say Russia's economy is "incredibly unimportant in the global economy except for oil and gas….[i]t's basically a big gas station."
What Putin is selling to the world right now, however, isn't gas but the following story: The Ukrainians are essentially Russian and he's just trying to unify them and protect them.
I call bullshit. But hold that thought.
Let's turn to 1931 Japan for a hot second.
See, that's when Japan sought to create the Greater East Asia Co-Prosperity Sphere (GEACPS) by saying that, "[w]e're all Asian. We need to unite against white people. We're gonna do that by taking over everyone so we can adequately protect you all."
Sound familiar?
Under the banner of GEACPS, Japan did all manners of incredibly fucked-up shit.
But, according to Washington Post reporter Daniel Yergin, this was all bullshit – of course – it was for something a lot simpler: Oil.
Japan had – and has – zero oil and realized that it needed to invade other countries to acquire oil, hence all the GEACPS bullshit.
Things hit a massive bump when Japan invaded China in 1937, freaking out the US and causing the US to freeze all oil sales to Japan on August 1st, 1941. This action, plus the freezing of Japanese assets the month prior in July of 1941, directly caused the Asian Theatre portion of World War II.
Back to today, 2022.
Here, we have the same situation in reverse; Russia isn't in need of energy – in this case, gas not oil – it has too much of it. And nuthin else. That's all it has. Think of the last Russian car, jeans, movie, you purchased. I'm guessing you can't.
All they have is a shitton of gas but, lucky for them, the world could use that.
But, just like most things in the world, it's not the product itself that's the issue, it's the getting of the product to the consumer's hands that's the issue.
That's why you've probably read about the Nord 2 pipeline; that's this big-ass pipe Russia's been building for the past ten years or so to get its gas to Germany and the rest of Europe.
But how's Russia been able to get its gas to Europe for the past ten years while they're building this damn thing?
BAM! Ukraine, baby.
Well, Ukraine and Belarus. But Belarus is essentially Russia. Check out the map below.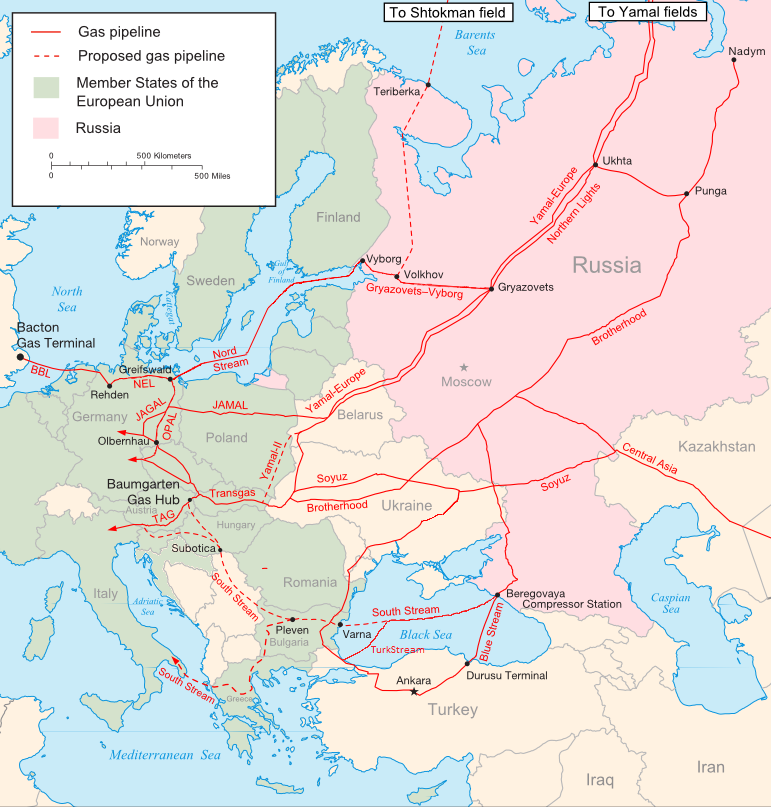 Here's where things get nuts. Well, nuttier.
See, Ukraine and Russia worked out a deal where Russia would pay it for transport of gas from Russia via those red lines you see above. Irritating for a fella like Putin but business is business, right?
Except in 2009, Ukraine was accused of skimmin a little off the top for themselves. The facts, on both sides, were a little muddy but kinda irrelevant: Putin believed that they were stealing gas and that was when things really started heating up between the two countries, ending up where we are today.
---
I'm a New Yorker. There's one thing you learn early on in NY; you don't mess around with organized crime. And you sure as hell don't interfere in the money-making ventures of organized crime.
But imagine a mob that ran a country and only had one single thing of value (albeit a shitton of that one thing) and (a) you were responsible for distribution of that thing to their biggest customer and (b) you were thought to have skimmed a little off the top?
Well, if you know anything about Bugsy Siegal and/or watched Casino, you know how well that worked out.
I'm, not-at-all, blaming the Ukraine for this mess. They're just trying to get paid for use of their land and the people of Ukraine are just trying to live.
They've been at war for years now, with Ukraine having battle-hardened soldiers ready to fight.
But Russia's still bigger in every sense of the word and they're betting that it's easier, and cheaper, to take over the Ukraine a la Belarus than keep paying Ukraine.
What NATO has to do is convince them that the economic cost of trying to take over the Ukraine is gonna cost a lot more than just paying them rent.
Hence alla the sanctions.
It's anyone's guess if they can do that.
Russia is willing to start WWIII under the same pretenses of Japan in WWII. Probably with the same disastrous results.
None of this is good. And it's gonna get a lot worse before it gets better.
Location: earlier today, wondering if we should move to Montana
Mood: concerned
Music: Man, I had a dreadful flight (Spotify)


Subscribe!
Like this post? Tell someone about it by clicking a button below.