Having fun beating up kids
Both my friends Panda and Pez were willing to come grab me from Gar and Wynn's but Pez was closer so I went with her.
Her: Look another bunny!
Me: Man, we are really not in New York City right now.
Had a pretty restful sleep so I was pretty ready for the day. We got to the joint in just a few minutes so I got changed when a young man stepped in.
Him: You look familiar, do I know you?
Me: Do you watch Scenic Fights?
Him: (surprised) Wait, you're Logan from Scenic Fights? Can I get a pic?
Me: (laughing) Sure. It's pretty much just you my mom that watches it.
It turned out that I was the second fight of the day so I didn't even have time to warm up. But I did manage to win against someone 25 years younger than me and pretty tough…
…unlike in my second fight, which was against someone 28 years younger than me and pretty tough.
My buddy Ian, before everything went down, shouted, "Have fun beating up kids, Logan!"
But it was still, honestly, a lotta fun. I was oddly not anxious the way I thought I would be.
You see me grabbing legs in the video and then throwing my hands up; it's because in my division, there were certain things you weren't allowed to do to your opponents legs and I had to keep reminding myself, even when I wasn't doing it.
So that cost me good positions, time, and attacks. No excuse, though. I shoulda done better.
Afterwards, I realized my knee was hurting a little. After an hour, it was hurting a lot. Spent the rest of the competition like this.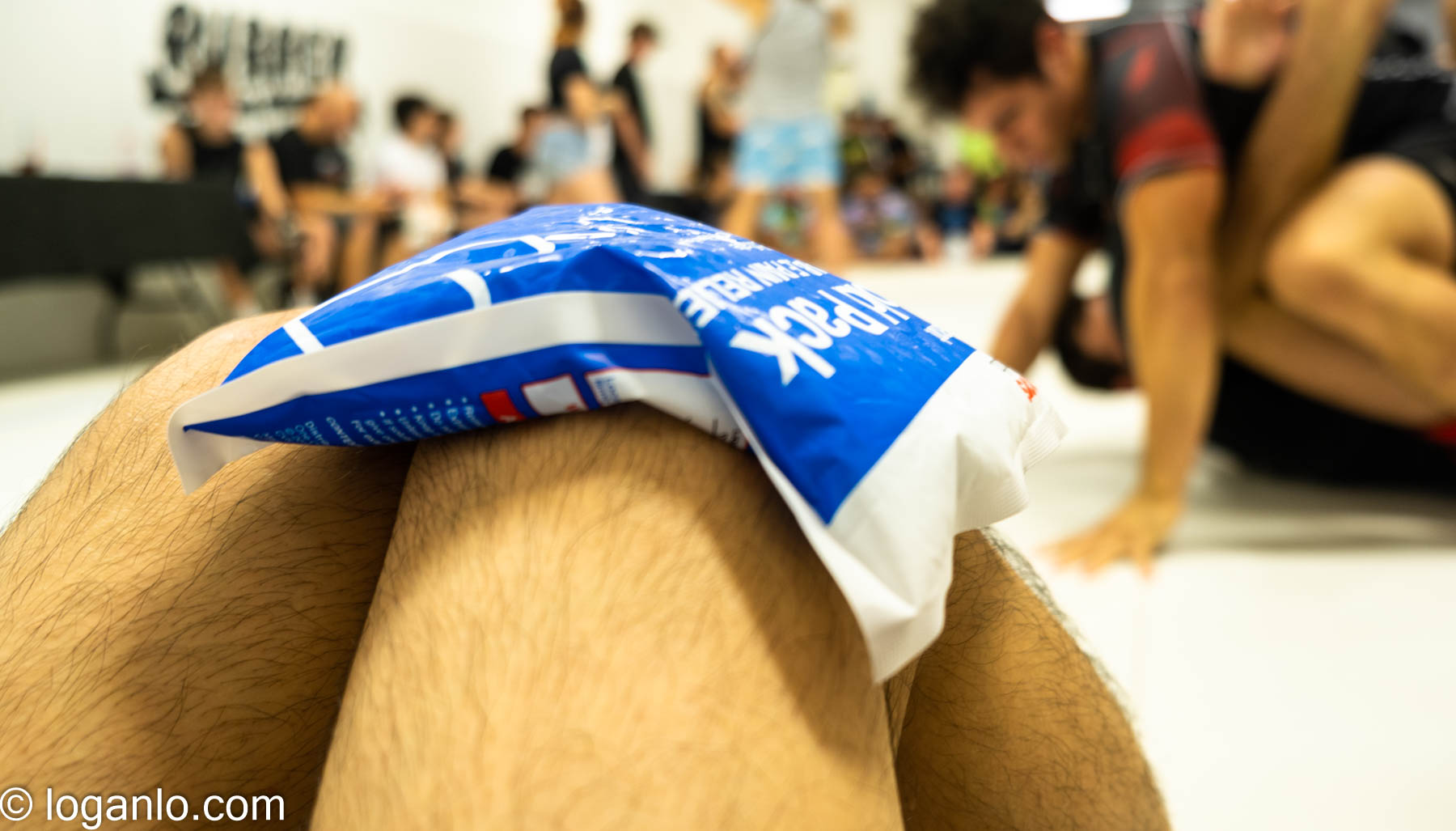 Pez lost her two matches but she, honestly, did a great job while she was rolling.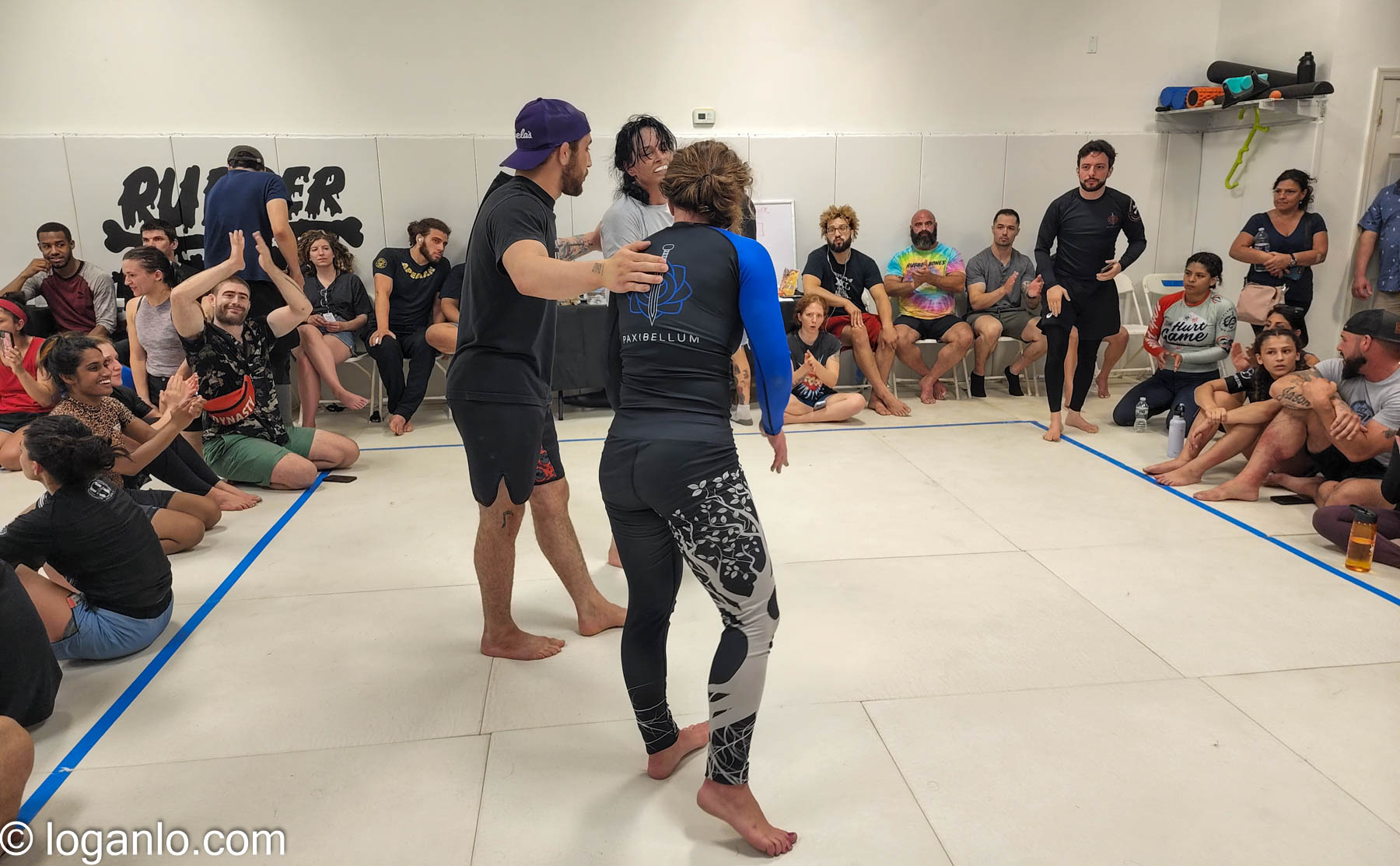 Mouse, however, was – like always – a beast. She won her division – and this is going up a skill level to the advanced division to boot – and was invited to fight in the absolutes, which means there's no weight classes.
Even there, she won BOTH her matches with people more experienced and heavier than her.
She only lost the very last round with the Judo coach of our friend's gym, Hinds.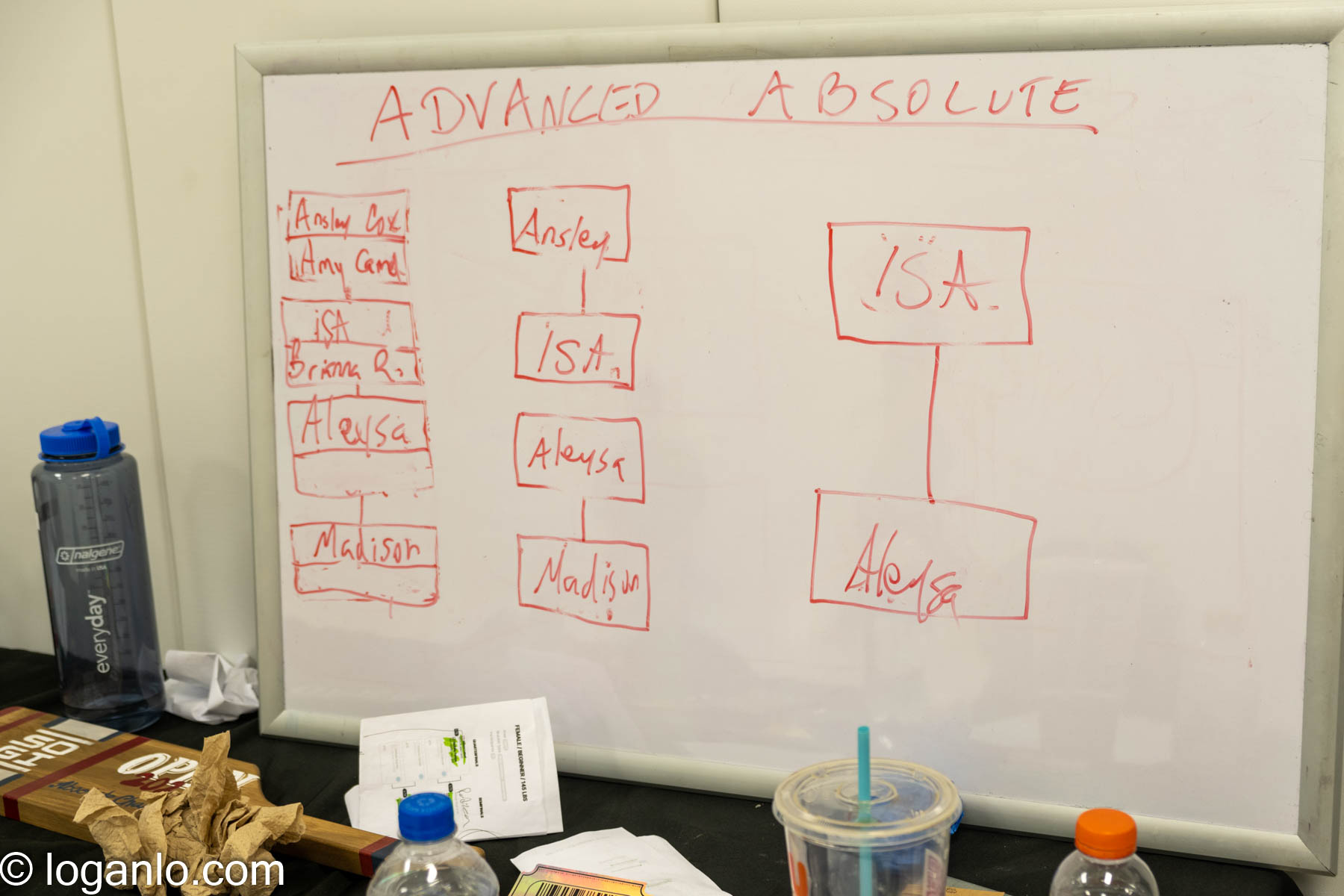 As an aside, Kyle, the BJJ coach from that gym – and her boyfriend – saw that no one was coaching me in my matches so that dude just sat down and started coaching me.
I'm honestly not sure I woulda won my first match without him.
You can see him sitting over my left shoulder in the main picture above wearing his typical Hawaiian shirt. He also coached as many of our guys that weren't competing with his guys that he could.
Great fella and I wanted to mention him here.
Below is the third of the four fights Mouse had – plus two overtime rounds. Lemme tell ya, you don't wanna mess with Mouse.
Note also that Kyle is coaching her opponent but Mouse isn't getting any real coaching of her own. She was so close to sweeping everything.
We're not together anymore but, man, am I proud of her.
Afterward, we all went out to eat – Kyle even invited us over to his pad.
May write about that tomorrow because this entry's getting long.
Location: just now, my stoop having a drink with a pretty lady
Mood: happy (enough) missing the boy
Music: I wish you were still here (Spotify)


Subscribe!
Like this post? Tell someone about it by clicking a button below.