Some good reason
Boy: It was unexpectedly warm today.
Me: Man, do I talk like that?
I'm not sure how five-year olds talk but my son looks like a five-year old Chinese kid but acts like a 65 year-old Italian man.
Him: Do you want to listen to Linda Ronstadt or Neil Diamond?
Me: Uh…
I forgot to mention that, when I went to pick him up last time, Mouse was nice enough bring the whip to get him. But we first stopped off in NJ to meet up with Pac and his girl for some Korean food.
I look way too excited to get some food into me in this pic.
The restaurant we went to was actually a branch of the place we normally hit up.
Me: (to Pac's girlfriend) So, in the Queens place, there's a sign that says 90+ people eat for half off and 100+ people eat for free. When Mouse and Chad turn 90, we're going to make them regret that choice.
Her: That's some long term planning.
Me: Gotta have goals in life.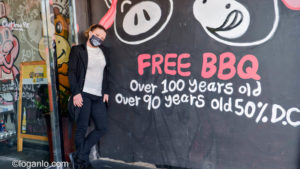 And in the middle of dinner, someone had a birthday party there. Man, I miss indoor dining and birthday parties – can't remember the last time anything memorable happened for mine.
Pac: When are you gonna move outta your Upper West Side basement apartment and into NJ?
Me: I will stab you in your eye, man.
Speaking of the Upper West Side, Lviv's back in town. She was away for a spell and hit me up the moment she walked in her pad.
She's been thinking about new living arrangements and asked about my building.
Her: I doubt I'd move to UWS unless there was some good reason to.
I was gonna tell her that it's the Upper Best Side but my life is needlessly complicated as it is.
And trying to simplify it is anything but…
Location: home, making ribs
Mood: hard to say
Music: you don't know it all (Spotify)


Subscribe!
Like this post? Tell someone about it by clicking a button below.