Sometimes I wonder if I'm settling for my good life

Was driving the other day when I saw the food cart above. We have these tiny little cafe carts all over Manhattan in the mornings from 7AM to about 11AM that sell coffee and breads – like croissants, donuts, and muffins.
In any case, this enterprising fella took it a step further by offering office work. If you can't read the sign, I've blown it up for you below.
It reads, "Photo Copy" – evidently he's a one-stop shop for all things coffee, biscuit, and Xerox.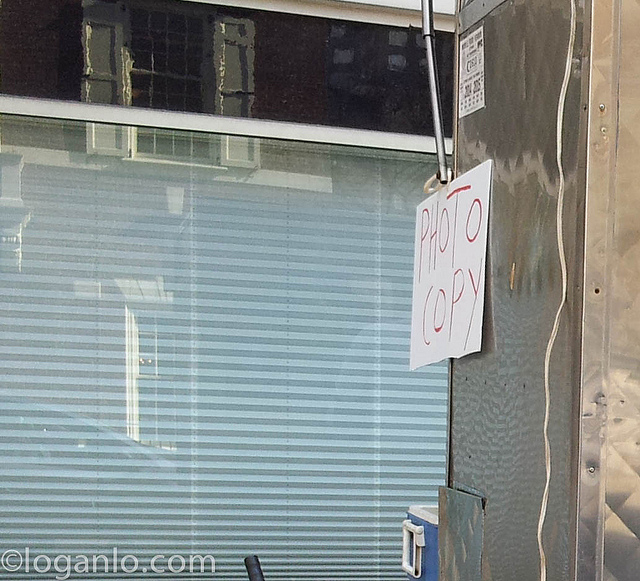 While it's funny, I'm not mocking him. I always respect the people that dream bigger than the fish bowl they've been given.
After all, it's why I like aged rum. It's the little things we do have big impact in our lives.
Sometimes, though, I wonder if all my drive has left me. I used to have all these grand plans but my life is quite good. But, as Jim Collins put it in Good to Great:
Good is the enemy of great. And that is one of the key reasons why we have so little that becomes great. We don't have great schools, principally because we have good schools. We don't have great government, principally because we have good government. Few people attain great lives, in large part because it is just so easy to settle for a good life.
As for me, sometimes I wonder if I'm settling for my good life.
Suppose the fact that I'm sleeping regularly for the first time in a while is a major reason why I'm not sure I should even want more out of life.
Everything has a price tag. It's all about what you're willing to pay.
Location: waiting for the summer heat to return
Mood: anxious
Music: Slow down my beating heart, a man dreams one day to fly

Subscribe!

Like this post? Tell someone about it by clicking a button below.
Related articles