Demolished a room and got hit by a car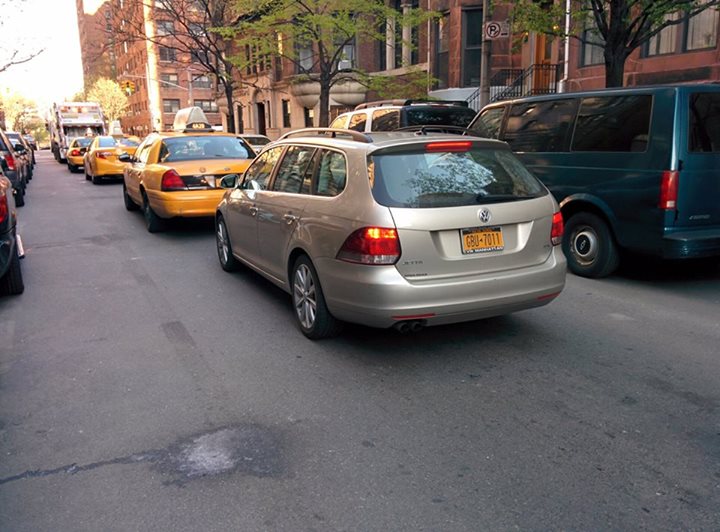 Had an interesting weekend.
Walking out of my gym in midtown, met a young guy who worked at a masonry shop a few doors down.
Yes, it's odd that there's a masonry in the middle of Manhattan but where we are, there's still a lot of old NY there.
After a little chatting, mentioned that I was thinking of fixing up part of my apartment and exchanged info. Got a call later on that week that he was in the neighborhood. Within ninety minutes of that call, cabinets and appliance were ripped out and hauled away.
Sometimes, things  just move quickly.
Which is the opposite of what was happening on the street in front of my apartment on Saturday morning because of the garbage truck you see in the picture above.
This was enough to cause some jerk sit on his horn and wake up everyone in the hood.
When I came out to take a picture of him, he proceeded to bump me with his car.
Again: He hit me with his car even though he could not move because of the garbage truck in front of him.
I was unhurt – although it's my ACL leg so it's a little sore. Shoulda called the police but I had my usual bout of insomnia the night before and didn't think it through.
Ended up calling the cops afterward, but by then, figured it wasn't worth it. Interestingly, the cop that came was actually another student from my old gym and we chatted about my current wrasslin partner, whom everyone in NYC seems to know cause he's such a nice guy.
The opposite of this guy here, who's the type of self-important NYC douchebag that make life miserable for everyone else.
He drives a fine German automobile and wears a button-down shirt but was clearly raised by wolves.
Like I said, young broken people grow up to be old broken people.


And now, a new week. Let's see what happens.
Location: back to wrasslin in just a bit
Mood: sore
Music: you know it don't matter anyway. You can rely on the old man's money


Subscribe! Like this post? Tell someone about it by clicking a button below.