Playing cards with friends
Her: "All that glitters is gold."
Me: (laughing) The saying is, "All that glitters is NOT gold." You got that precisely wrong
Gymgirl's gone again. The details are unimportant.
She's great; I adored her, really. We just don't see the world the same way.
---
Despite my reservations, three buddies of mine just showed up for drinks by mine…
…along with food, which I had to decline because of personal reasons.
Him: Man, you really didn't eat anything.
Me: I told you, I'm a rock. I'm a goddamn brick wall.
Now, I desperately need sleep – see the convo below – which is another entry entirely, but I couldn't say no to them.
I'm pretty touched that my friends always show up to see how I'm doing. Although they made their feelings about her clear as well.
Him: We all liked you with her, man. How much sleep have you gotten this week?
Me: Nine hours in the last 96.
Him: Are you sure you should be making decisions like this right now?
Me: (shrugging)The die is cast. We make our choices in life and accept the ramifications. Both of us. Alla us. These are the cards she dealt me and I, her. So we play them as we do.
Perhaps they're my friends because I'm old as dirt and have learned a thing or two along the way.
Or maybe there's just something in my life that makes some people wanna stay yet others not.
Death and f____ing cancer notwithstanding.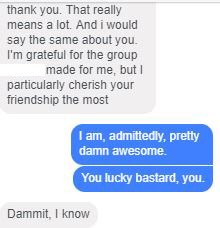 Although some of them could be a bit more supportive than others.
Me: What are you talking about? I'm the best looking Asian from our old gym.
Him: No, that'd be your cousin.
Me: (thinking) OK, that's fair. She's lovely.
Location: in the world, doing some work I've not done in a while
Mood: accepting
Music: Now, all I know, I know all these things


Subscribe!
Like this post? Tell someone about it by clicking a button below.