The Illusion of Choice
Him: Why does everyone go away?
Me: Sometimes they have to, sometimes they want to. If we miss them, it means that they mattered to us. That's not a bad thing, kiddo.
The boy's sad because a number of people in his life have exited his venn diagram. Some temporarily, some more permanent.
It hurts me to see him hurt but I try my best to acknowledge his feelings as much as a 47-year-old-man-who's-seen-a-ton-of-shit can vis-a-vis a five year old.
Alison's sickness and death rocked me. For years, I prided myself on being dispassionately aloof to the workings of the world – in it but unaffected by it.
But when she got sick, I was a raw, open wound. I felt everything. The years before she got sick, while she was sick, and after she died, I lost all sense of self.
My career, my friends, my hobbies, my life goals, even my own sense of self-worth and pride. It all disappeared.
Poof.
Love does that to people. It's neither a bad thing, nor a good thing, it's just the cost of love. You surrender to love, because that's its price.
I want to say that I've gotten better these past few years, but that wouldn't be true. It's more accurate to say that I've gotten better bit-by-little-bit.
One thing that I used to believe with all my heart was that there's luck and there's fate. They are not the same but they both can't be affected by us.
I always believed that there are things in our lives that we think we can control but we can't. When Alison and my dad got sick, I wanted to believe that we had a chance.
In the end, we only have the illusion of choice, and some things were never meant to be as we hoped them to be – oftentimes, there's just luck and fate.
In the Dark Knight, the Joker puts a gun in Two-Face's hand. Two-Face then takes out his double-sided coin and tells him that if he flips it and the scarred side pops up, the Joker dies, if the unscarred side comes up, the Joker lives.
Two-Face thinks that chance will determine the Joker's fate but he was tricked all along.
You see, the Joker had a his finger on the hammer. He was controlling the outcome no matter what.
Two-Face only had the illusion of choice. Just like us, oftentimes.
I drove myself starkers all these years thinking I could change things I had no control over. The joke was on us.
Him: (nods) I'm still sad.
Me: It's ok to be sad. Papa's sad all the time. Fate shuffles the cards and we play.
Him: What does that mean?
Me: I'll explain it more when you get older. How about some ice cream?
If there's one thing that I want to teach the boy, it's to play the hell out of the cards he's dealt.
It's one of a million things I need to do with him before I have to go.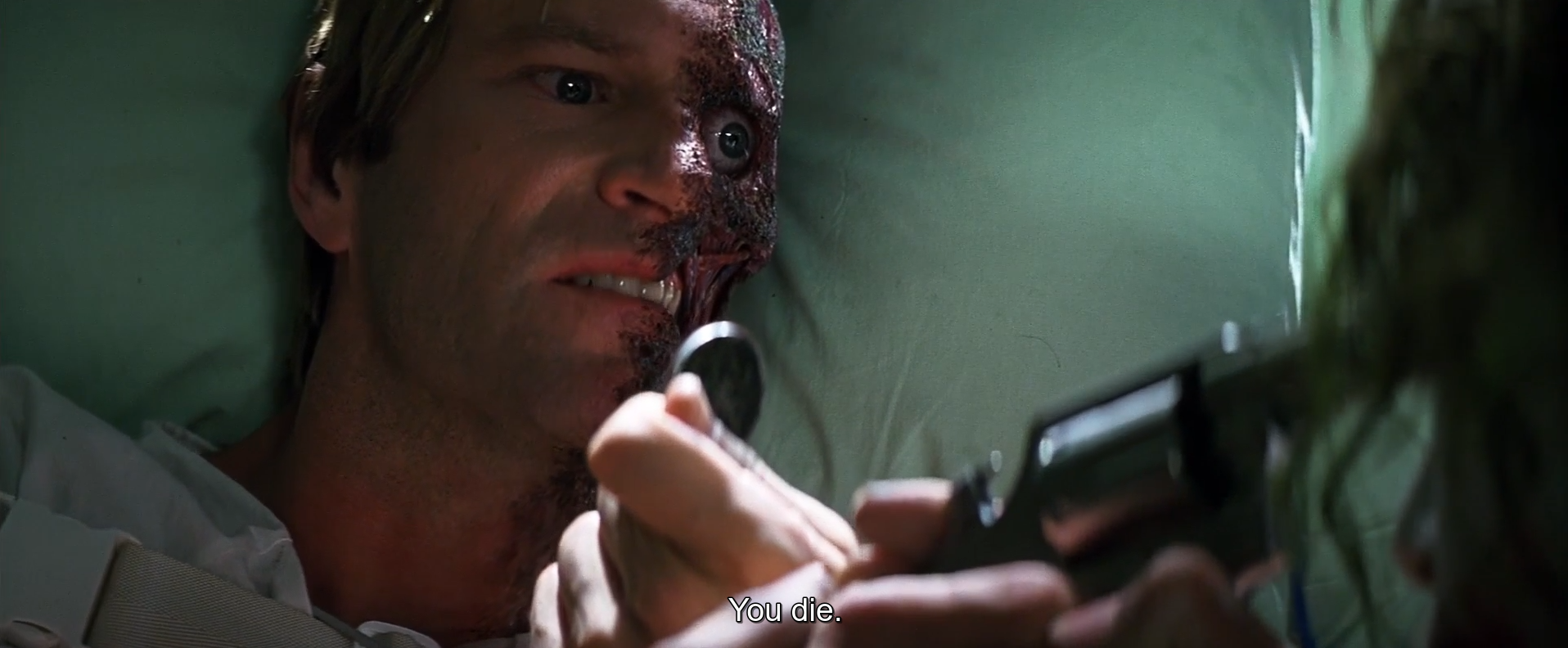 I watch a lotta comic book movies.
Location: home
Mood: thoughtful
Music: I wipe my feelings off (Spotify)
Like this post? Tell someone about it by clicking a button below.