Two questions for the Vice-President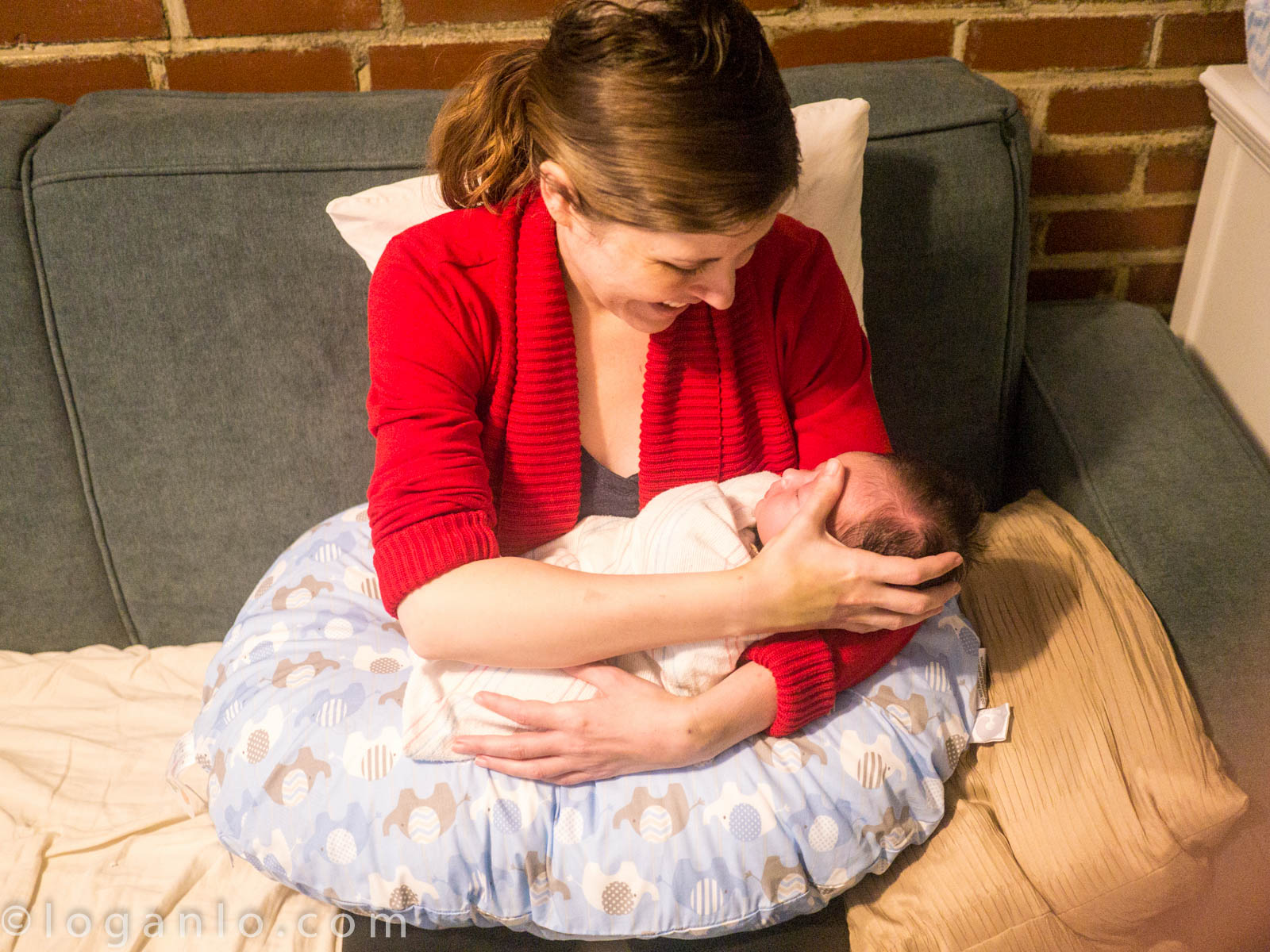 A boy walks across the beach, throwing starfish back into the sea.
Old man: What are you doing?
Boy: (flings a starfish into the sea) Saving starfish from drying up on the beach.
Old man: (laughing) What's the point? There are millions of starfish dying on beaches. Throwing one back won't matter.
Boy: (picks up another starfish)
————-
Dear Mr. Vice President;
My wife and I were deeply touched and saddened when we heard of your son's passing, because we often remarked how unfair your life had already been. How you've managed your grief so well, I cannot fathom.
I write to ask that you help spare my family the grief and anguish that your family had to bear both those times.
My wife, Alison, and I have struggled for years to have a family. We suffered several losses in the past few years. That alone would be enough to break someone but my wife persevered. You would like her because, like you, she does not quit.
We were finally blessed with our son Nathan on November 3rd, 2015. But on November 8th, just five days later, she had a seizure and was rushed to the hospital. After a biopsy, we found out she had an incurable, aggressive brain cancer. I believe it was the same brain cancer that took Beau from you: A glioblastoma (GBM).
Since that day, I've done nothing but research the disease and help my wife. And in that time, in less than a month and a half, she's had a total of three brain surgeries.
As you know, glioblastoma has an almost 100% death rate with a near 100% recurrence rate. Yet after over 50 years of research, little has changed: median survival is only an abysmal 14.6 months – in the past 15 years, there's been almost no progress in survival rate.
Brain tumors are the leading cause of cancer-related deaths in children under 14, and the second leading cause of cancer-related deaths in children under 20.
14,000 Americans are stricken with it each year, each with names and families. Names like Brittany Maynard, Lauren Hill, Theodore Kennedy, Beau Biden, and Alison McCarthy. Families like yours and mine.
We learned we had this insidious disease the same month you attended the GBM AGILE Reception. There, Dr. Anna Barker said the problem is clear – outdated FDA rules that were never meant to deal with aggressive terminal illnesses:
"Randomized clinical trials [the current standard clinical trials] are 70 years old…what other technology doesn't change in 70 years? … Meanwhile, cancer biology is moving at light speed and potential treatments have to wait in the queue."1
Thousands are dying each year while these outdated rules stand in the way of potentially life-saving research and everyone knows it, because we treat brain cancer like an infectious disease. We think that there should be one cure (eg, penicillin) for one disease (eg, strep throat).

But GBM is not strep throat. It is closest to AIDS, when it first arrived, in that it is terminal and terminal very quickly. And time is a luxury GBM patients do not have.
Here's what an FDA trial requires, of which every step is an excruciating hurdle for a GBM patient:
Phase 1 – Examines the safety of a product in a very small group of healthy volunteers or patients to determine appropriate dose ranges. (20-80 patients)
But: A patient with a GBM is, by definition, not healthy. My wife is not eligible for any clinical trial right now because she is not healthy enough for one.
Phase 2 – Evaluates the safety and efficacy of the product at a pre-determined dose in comparison to the standard care treatment (100-300 patients)
But: This means half the patients don't have access to a drug that might help them and, for someone with a one-year life span, if that dose is wrong, there is no second chance to get it right – because that's not the purpose of a clinical trials.
Phase 3 – Tests the product in double-blind comparison to the standard care treatment with a large and diverse population to determine efficacy and usage guidelines (1000-3000 patients)
But: Because GBM is rare, these patients are not to be found. Moreover, double-blind means that half the patients, again, are on placebos.
This is why in the past 15 years, there have only been four advancements in GBM therapy: Optune (2015), Avastin (2009), Temodar (2005), and Gliadel wafers (2002).
The outcome is so consistently dire, we cannot afford to deal with each treatment option via FDA rules, which have a real-world cost of over 2.5 billion US dollars per trial.
The cost, coupled with the requirements, make it easy to see why only four advancements happened in the past 14 years.
People think – in fact our doctor thinks – that the Hippocratic Oath says, "First do no harm." This is false.
In fact, the Hippocratic Oath does not say that. It does, however, say "I will apply, for the benefit of the sick, all measures which are required."
Similarly, researchers are held the standard of the Declaration of Helsinki which expressly states that "concern for the interests of the subject must always prevail over the interests of science and society."
Here is my first question: Can we honestly say that the FDA regulations in place now for GBM aren't in violation of those oaths?
The rules are not there to save patients, but to aid science. A laudable goal, but one directly in conflict to these sworn oaths.
This is precisely why Larry Kramer wrote in the NY Times about AIDS decades ago, stating that "Double-blind (placebo) studies were not designed for terminal illnesses in mind. … It's genocide by neglect."
My second question is equally simple: If there is credible evidence that a treatment may improve both progression free survival and/or overall survival, and GBM has an almost 100% death rate with a near 100% recurrence rate, why would we not afford a patient every bit of chance possible?
For example, Valcyte is a medication for HIV use but has been shown to have some effect on GBM. However, "it is not standard practice to prescribe medications that have not been vetted through appropriately designed phase II trials." This, despite the fact that the drug is well-tolerated and has minimal risk.2
Similar to HIV treatment, gonorrhea, combination therapies are the only hope for a cancer as deadly and insidious as glioblastomas.
Yet FDA rules are designed for monotherapies – again, treating this terminal illness like a mere infectious disease.
Dr. Emil Freireich, one of the three doctors that promulgated combination therapy to cure leukemia, is on record saying, "Would the things we did in 1960 be possible today? The answer is unequivocally capital N, capital O, no. … Reforming regulation is the most important thing we can do."
– https://vimeo.com/119006145 at 1:04:13
ACT-UP transformed AIDS from a death sentence to a chronic condition through by-passing the FDA and creating a drug cocktail, a combination therapy of current drugs to deal with a terminal disease.
To this date, there has never been an FDA randomized Phase 3 trial for the AIDS cocktail. This is totally due to political will.
"If AIDS patients demanded direct access to drugs and treatments, should cancer patients with terminal illnesses not also make similar demands?"
– The Emperor of All Maladies: A Biography of Cancer, pg 310
Everything we knew and read of Beau Biden confirms your statement that he was the finest man you have ever known.
My wife has been heartbroken, not because she has to go through this, but because my son and I have to go through it. For this and countless other reasons, she's the finest human being I have ever known.
Your grandchildren deserved every chance – however minute – to grow old with their father, to remain on top of the mountain. My son is only some 70 days old as of this writing. He deserves to know his mother, just like every child deserves to know his or her parent.
We must hold doctors and clinicians to their oaths and put patients first, not science and rules. Instead of these onerous rules, doctors and their patients should, together, be allowed to simply weigh the benefits against the risks.
I ask for GBM patients what the AIDS activists demanded for their loved ones, when faced with a terminal illness, as delineated more thoroughly here:
Shorten the drug approval process.
Eliminate double-blind placebo trials – this is the height of cruelty.
Include people from all affected populations at all stages of GBM in clinical trials – currently there is a clear distinction between "new" and "recurrent" patients.

Why on earth is that? Beau and Alison should have had access to everything the moment they found out they had a GBM.

Medicaid and private health insurance must be made to pay for experimental therapies. This is critical with the passage of the ACA.
Doctors must inform patients of any and all clinical trials that a patient may be eligible for.

Currently, patients must learn that clinical trials even exist on their own. Then they must research to see if they are eligible for them, also independently.

The FDA must support a goal of keeping patients – that is keeping people – alive, rather than furthering science.
Curing cancer – especially this cancer – is not a moonshot because we're lacking the knowledge, sir, it's a moonshot because we're lacking the political will to change regulation.
Please help me save my wife, Mr. Vice-President, and all those waiting for a cure for this horrible cancer. We don't have much time.
Please #SaveAlison.
Logan Lo
————-
Boy: (shrugging and flinging the starfish into the sea) It matters to this one.
Location: home with my family
Mood: determined
Music: Together we could break this trap
Like this post? Tell someone about it by clicking a button below.