Can't be trusted
Friend: You're throwing her a birthday party? Why?
Me: Because everyone deserves a kick-ass 30th birthday party, especially her.
Haven't really seen nor spoken to Mouse since we got back from the Bahamas for a variety of unimportant reasons.
But she just turned 30 recently and I tried to throw her a surprise birthday party. Basically sent a bevy of out-of-the-blue messages to her friends and family asking them to get me in touch with everyone she knew.
The whole not seeing nor talking to each other didn't help.
Didn't matter – what mattered was pulling this off for her.
For me, this was bordering on stalking, but I figured that she'd be ok with it and everyone she knew already intensely disliked me so…sunken cost, if you will.
Besides, I did it because, even when she was super mad at me and we weren't speaking, she always came through to help me, and keep me company – even when I didn't expect or want her to. Think she knew that I needed her, despite my protestations to the contrary.
Plus, she did the same for me.
Unfortunately, she found out, which wasn't ideal but still ok, as you'll see.
It was actually a combo party with her and my coach, Chad, who also turned 30 a bit earlier.
Me: Are you ok with a combo?
Him: With my schedule, I kinda prefer it, actually.
Her co-worker Drea was a big help and picked up all the party favours and also two huge balloons that said: 3-0.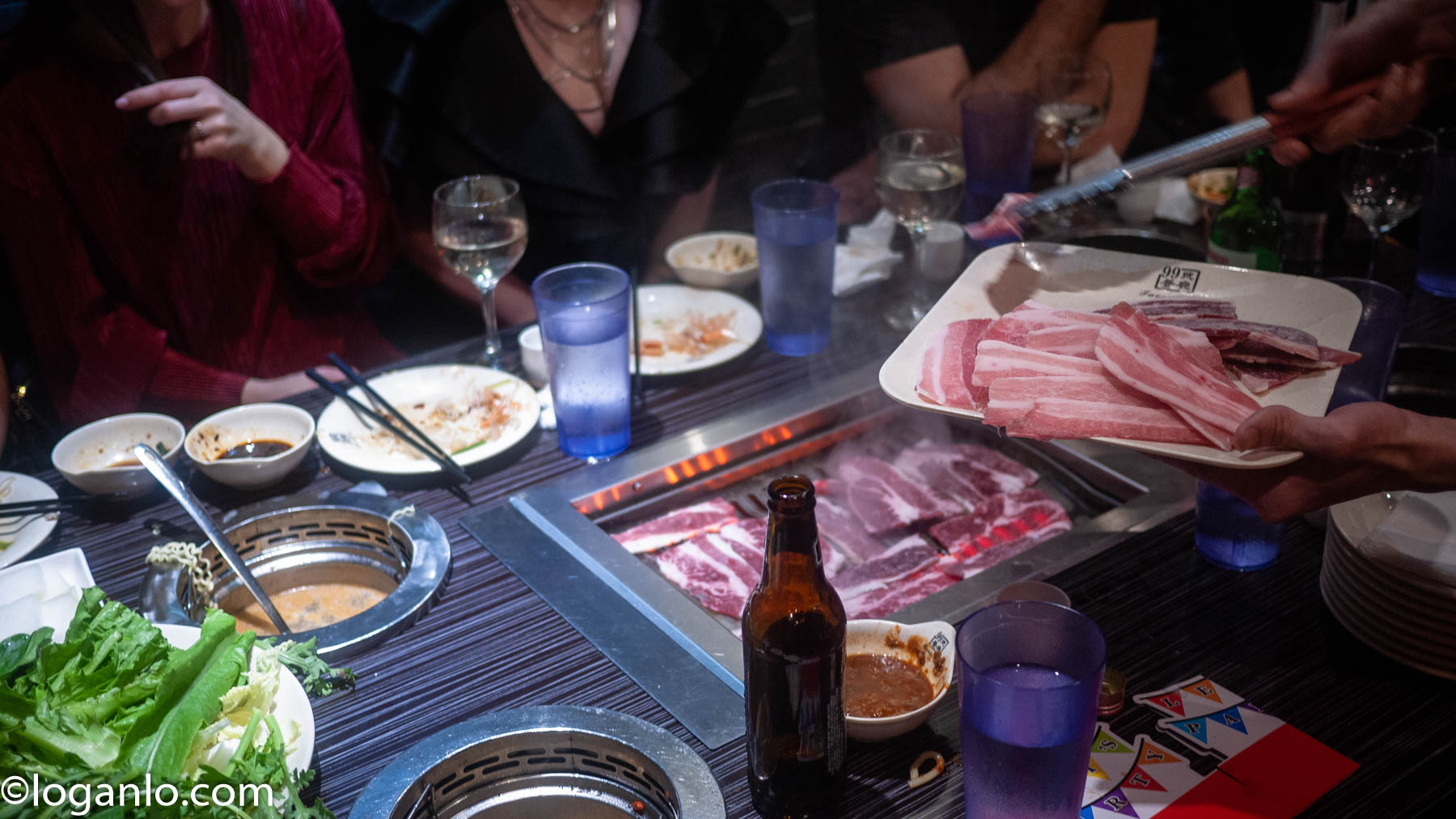 We started out at the same restaurant where we celebrated his getting a black belt.** It was all you could eat – both hot pot and BBQ.
After a while, two full tables couldn't eat anymore while three people – me, Curt, and Chad – were still, somehow, eating.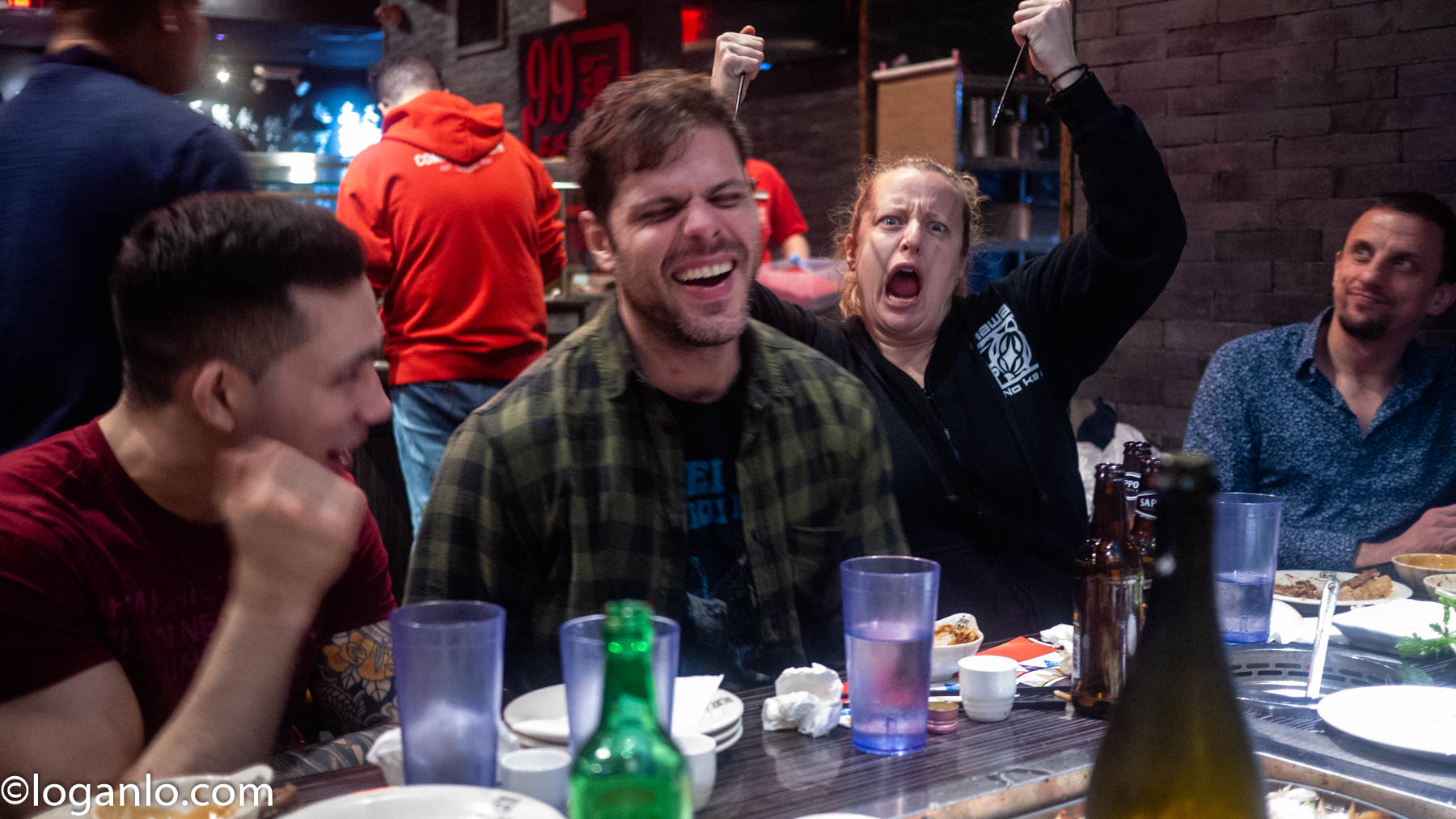 Felt bad that everyone was waiting on us to finish so I asked them if we should wrap it up.
Chad: (waving his hand under his chin): Yeah, I'm done. I'm tapping out.
Me: I've never been so disappointed in you.
Curt: I'm not done!
Me: No one cares about you, Curt!
Curt: Shut up, Logan!
Me: You shut up!
So, Curt and I cleaned off the second-to-last plate. While everyone else got organized, I went over to Solas to make sure everything was ok with our reservations.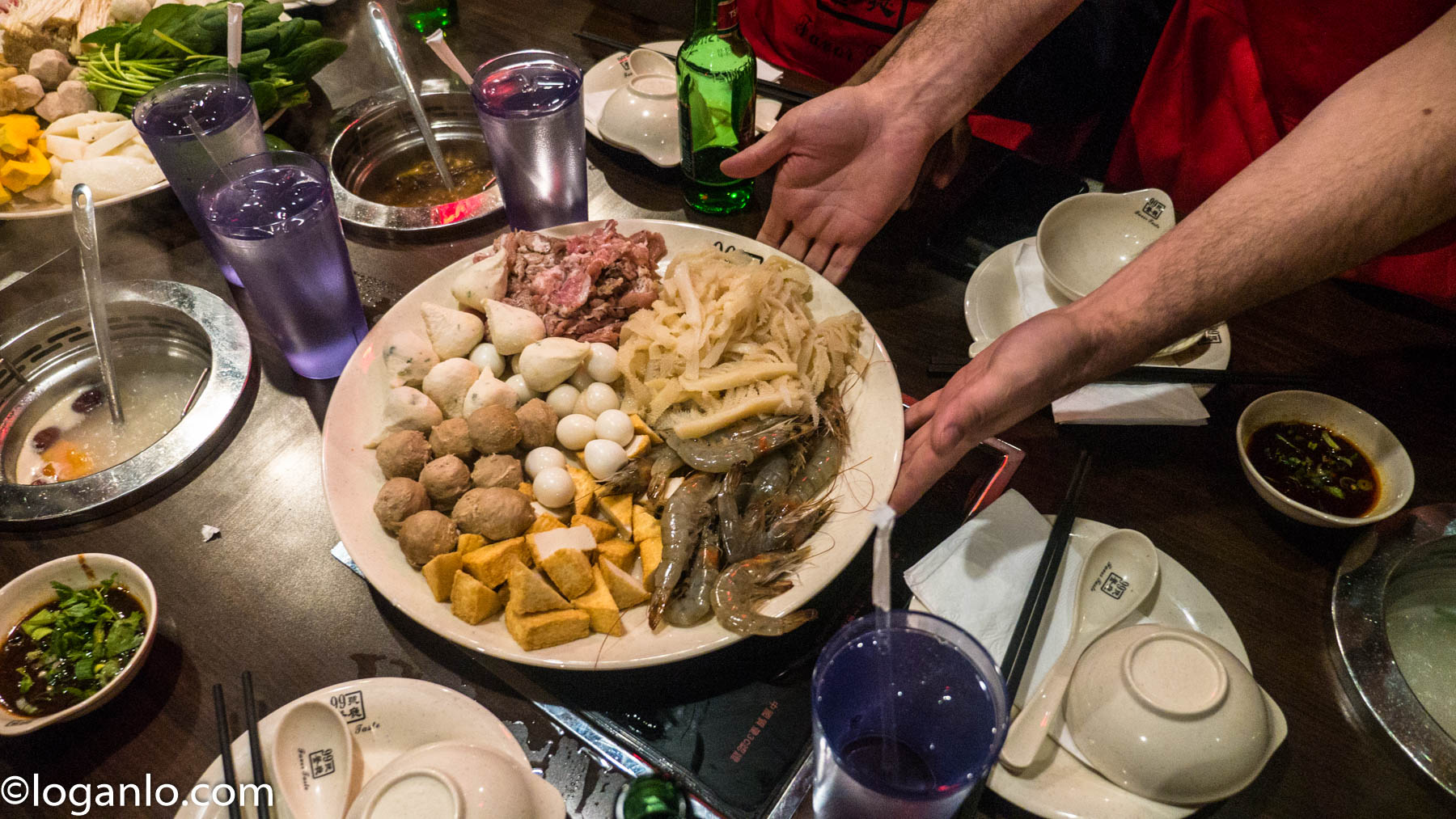 Mouse's friend was there with his date when I walked in so I sat with them as the waitress walked over. He was supposed to bring her to dinner but because she found out – and he's a vegetarian – I'd told him to just meet us there.
Her: Hi, I'm Janet and I'll be your waitress tonight.
Me: Hi Janet – that's Cha and his girl Jane. I'm Logan. (moving over) Take a seat and tell us about yourself.
Her: (laughs, shrugs, and sits down)
The rest of the the party meandered in and the whole party spent most of the night there as a number of people cycled in and out.
Now, this next bit'll only make sense if I tell you that I took a hit to my mouth that looked like a cold sore.
Vazquez: (walking up to me) Were you making out with that girl in the corner?
Me: (shaking head) We were just talking – I left cause she was being handsy. What am I, an a_____e? I'm gonna make out with someone else at Mouse's 30th? Plus, you think I'm insane? Mouse'd kill her, and then kill me – I gotta raise my kid and jail's no place for her. Plus, I have this (pointing at lip). No, I'm just chatting up randos because I'm doing everything I can to avoid Mouse.
Him: Why, is everything ok?
Me: (takes him by the shoulders, incredulous) Have you seen her tonight?!? On a normal night, Mouse has my number. She's insanely hot right now. I need you to stay until I leave cause I can't be trusted around her. Full stop.
He did not stay.
Here's a blurry shot of Mouse and Chad because this is mostly a family-friendly blog.
I'd like to say I made it blurry on purpose but really, it was because I was two sheets to the wind by the time I took it.
I'll finish this up tomorrow or something.
Gotta find out where I left my liver. Wonder if there's a lost-and-found box fulla livers.
Mine'd be one stinking of rum.
** Yes, I know I wrote that a co-worker got a promotion in this entry when really it was about Chad getting his black belt – I try to stay as truthful as possible in this blog without hurting other people. The latter bit's why I lied.
See, our old coach was/is such a jealous nutcase that  we all knew he'd flip out if he knew we were hanging out without him.
Which he did, of course. It's a major reason why we're all not there anymore.
Location: our home
Mood: accomplished
Music: when you look at me like that, I don't know how I feel
Like this post? Tell someone about it by clicking a button below.