I'm Home
Her: OK, here's the deal. You can have your silly little blog, just don't mention me. And if you do want to mention me, just…don't.
Me: (nodding) My silly little blog and I appreciate the accommodation.
It feels weird writing about my silly little life in the face of truly jaw-dropping world events.
Don't recall being glued to the news as much as I have recently, outside of when 9/11 happened.
Things feel the same. I suppose that's a post for the future but I just wanna wrap up a few loose ends from my last few posts.
I've had some version of this blog since 2005, with 2006.09.17 being my first entry here.
In that time, I've had a handful of people mad at me for something I wrote about them but that would happen like once a year, if that. Alison got mad at me for maybe one or two entries, total.
But in the past two weeks, I've had no less than four people mad about something I wrote. Even when I use pseudonyms and don't post identifiable pictures, they're still upset.
So, unless I get clear OKs to write about someone, I'm just not going to mention other people at all.
Him: Yeah, I'd appreciate that.
Me: Hokay.
Part of the reason I went out to California was to try and track down a friend that disappeared after COVID went down.
He's pretty wealthy and well-connected, but intensely private, and just *poof* disappeared one day.
I've tried all my regular means of reaching him to no avail so I ended up heading out to LA to try and meet up with a woman I know he orbited around once. That didn't go well.
Me: I'm in LA, if you're free.
Her: Good for you. I'm not. You should have thought this out better.
Me: Evidently. Look, I just wanna know if he's alive.
Her: How would I know, Logan? Let it go.
Me: This is going well.
On the flip side, a fella I knew from NYC was also in LA, purely by happenstance.
Me: What are you doing here? I thought you were in Nicaragua.
Him: My buddy called and said the house next to his was on the market so I bought it.
Me: Man, it must be good to have that kinda scratch. You free for lunch on Monday?
Him: Sure, let's do it.
We ended up meeting around my brother's pad. He'd never been to that part of the town so we met up and ordered a plate of food called "The Family Table" that was supposed to feed a family of four.
Me: This is not gonna be enough food.
We ended up ordered The Family Table, two large specialty rolls, and two other dishes.
He's a guy that sold several companies to Google and Facebook but studied a lotta philosophy.
We spent the entire time arguing about the ethics of having children.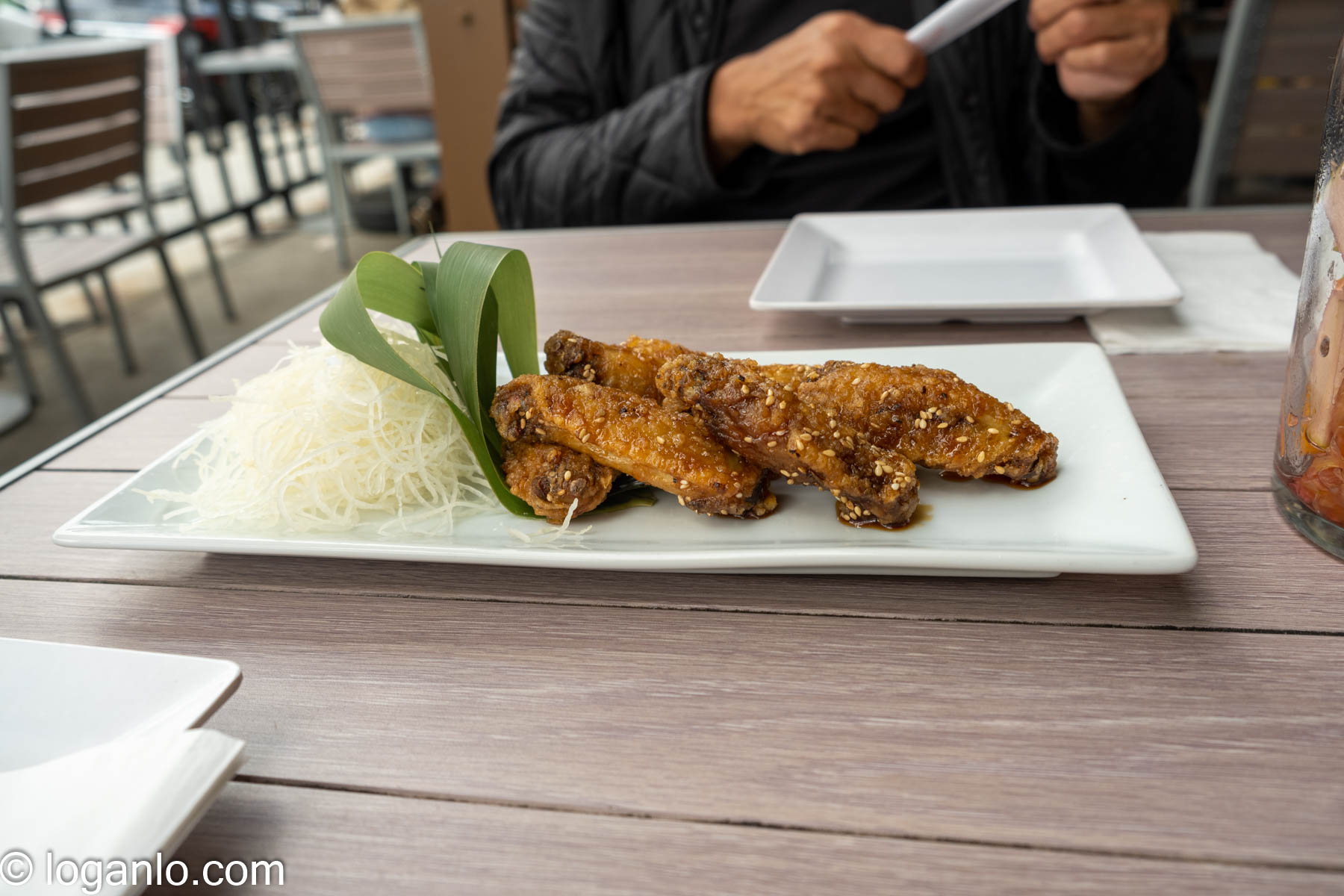 It was one of the more interesting and enlightening conversations I've had in my life but, in light of everyone that got mad at me for writing about them in my blog, I'll just leave it at that.
Was still hungry afterward and ended up buying some pastries before heading back to my brother's.
Spent the rest of the time eating and working on some things that've been percolating in my brain for a while.
I just needed to get somewhere else to figure it all out.
The morning I was going back, I order $40 worth of food at Lucky Boy, including a foot-long chili dog with chili and onions, another large bag of onion rings, a breakfast burrito with carne asada and a fish burrito for my brother.
This was my brekkie; those yellow logs are like 10 inches long.
It was the first time in ages – ages – that I couldn't finish everything.
Also, I realized that I was gonna be in a tube for the next six hours and eating all that food was probably not the best idea.
Me: I have made a terrible miscalculation here.
BUT the trip back ended up being uneventful. I wrote my mother-in-law that I had a cast-iron stomach.
Even I couldn't believe I didn't have a gastronomic accident in the air.
Ended up hopping the LIRR back and was home in less than an hour.
Me: I'm home! (sighing) I'm home.
Location: earlier today, playing tag with the boy
Mood: gutted
Music: I just thought I would have you all my life (Spotify)


Subscribe!
Like this post? Tell someone about it by clicking a button below.