Mother is the name of God
Him: Why do you stay in contact with her and people like him?
Me: I owe them a debt. Anyone that shows a kindness to my family, I owe a debt.
My head's quiet again.
That's more than I can say about the state of the nation, what with a pandemic, murder hornets, cannibal rats, state-sponsored murder, and now race riots.
The thing is: I get it. As my buddy from my gym said, you never get over the anger. And what's the anger all about? Inequity.
It's bullshit that Alison died so young, so close to her dream of finally – finally – getting a family. Bullshit.
I said earlier that I couldn't watch the whole video. I stopped when Floyd cried out for his mother.
That broke my heart. As a regular, run-of-the-mill-normal human being, it broke my heart. That someone could die for no fucking reason whatsoever.
And what crushed it to powder was the thought that in the darkest moments of his life, my son will cry out for me. Because he didn't know Alison.
And I'm half the person she was. You see, Mother is the name for God in the lips and hearts of children.
Except for mine, that is. Fuckballs.
I counted the days. Alison lived exactly 13,893 days. HALF of what she was promised. What we were promised. The inequity makes my blood boil.
Alison and George are gone now, for no good reason whatsoever. So, I understand the rage.
But there's another facet to the rage. And that's the debt.
In 1847 – after the Trail of Tears – the Choctaw heard about the starving Irish during their potato famine and somehow, managed to scrape together and send $170 (about $5,000 today) to help these people strangers.
For every bit of inequity – where one isn't given what one's owed – there's a flip side. There's grace; that's when you're given something you didn't earn.
When Alison was sick, the grace I saw, humbled me. To those people that helped us, my family owes them a debt. That's it.
We owe them a debt.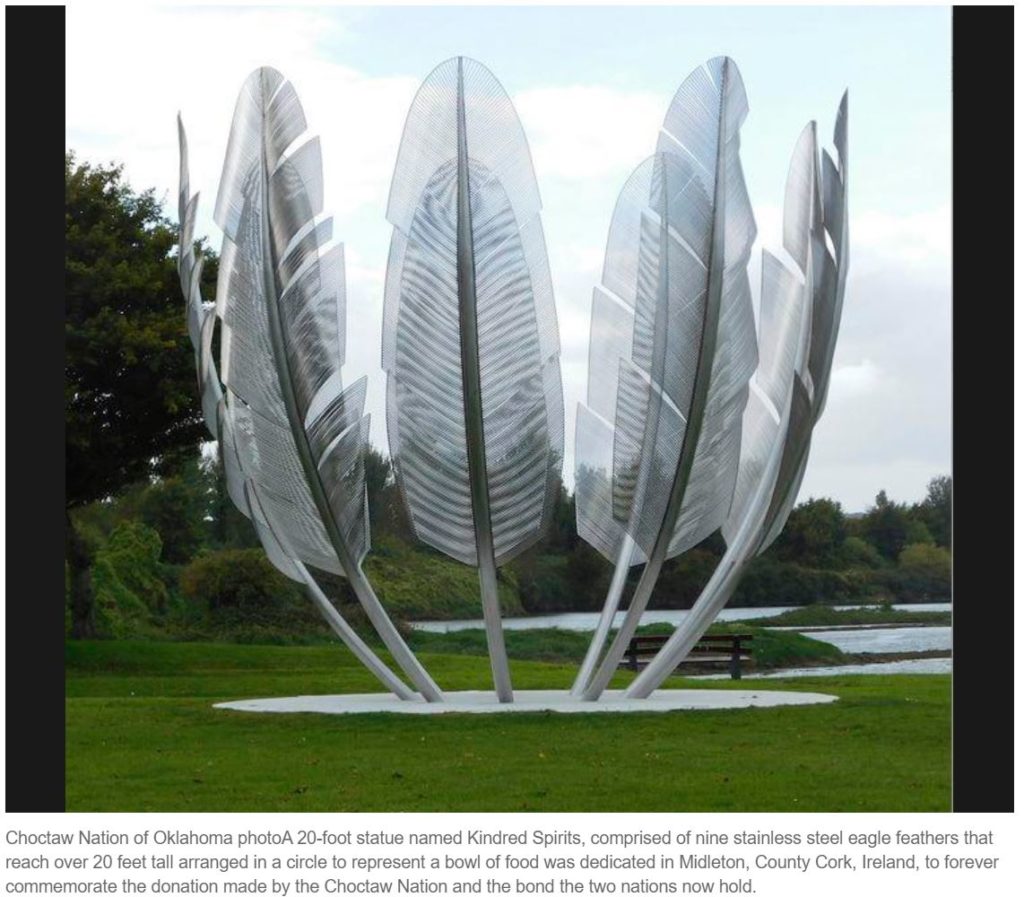 The Choctaw owed the Irish no debt but they paid a value to someone in need. And 173 years later, the descendants of those with the debt paid back some of it.
I think I hold a special place of contempt in my heart for those in mixed-race relationships – particularly white male and Asian female relationships – where the white male doesn't realize the debt he owes the African-American community.
Like the the officer that murdered Mr. Floyd, who is married to a Laotian woman.
That officer doesn't realize the debt his family owes to the black community, that was regularly lynched for just looking at a white woman, and had to go to court to gain us all the right to marry any one of any race we wanted.
I was able to legally marry Alison because a white man named Loving – of all things – wanted to marry a black woman, named Mildred. My family would not exist but for Mildred and Loving. The debt every interracial couple owes to them cannot be overstated.
If you're white and in a mixed-race relationship and you don't feel any rage over what happened to Mr. Floyd and don't recognize the debt you owe to that community then I gotta point it out to you now.
You owe them a debt.
But rage against inequity works both ways.
Chauvin's wife just announced that she was divorcing him.
Podcast Version
Location: 95th and Broadway
Mood: angry
Music: so sick of being so lonely; miss all my family (Spotify)


Subscribe!
Like this post? Tell someone about it by clicking a button below.