10 years since the East Coast Blackout
Me: Today's the 10 year anniversary of the 2003 East Coast Blackout.
Her: Really? Wow. 10 years. Time goes by so fast.
I remember what I was doing that day/night well since it happened just under a year since the 9/11 attacks.
Was actually in a real estate closing when I realized that I was missing a check. So I made a mad dash to my office to get it.
On the train ride back to the meeting, the train got stuck in the tunnel. Was already panicked as this was only my third real estate closing so I remember that when the AC shut off in the subway car, I was already a sweaty mess. I also remember the subway car windows steaming up because of the humidity.
Hours later, the car doors opened in the middle of the tunnel and we worked our way in the dark to the station – we used our mobile phones for light. When I finally got out, I was a mile or so from the closing so I ran there with the check.
Was so absorbed in getting to the meeting that I barely noticed that there were no lights.
Arriving, I banged the door repeatedly when the building manager finally came and opened the door. "I'm…here…for the closing. Checks." I said, breathlessly.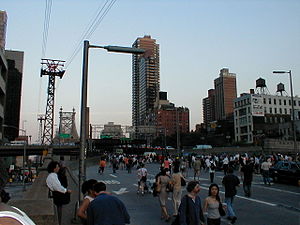 "Closing?" he said, "There's a ___ing blackout. There's no closing." And the slammed the door in my face. Only then did I look up and think, Well, that's weird.
Eventually, I made it over to Rain's apartment where we ended up BBQing on his roof since his fridge was stocked. I remember sitting on his roof ledge in a rumpled suit, dirty from my tunnel run.
Hours later in the dark, finally managed to grab a $80 cab ride back to my pad. We went at like three miles an hour up to the Upper West Side because of all the pedestrians and lack of light.
When I got home, found my sister waiting for me since she couldn't make it to her home. Back then I had a car so I lent it to a buddy to go check up on his mom in Philly. End up eating everything out of my fridge for a late dinner.
Two things happened that day:
I have a checklist for closings now so I never forget another check.
Got this here story to tell people now.
All education's expensive. Some, though, come with worthwhile memories.
Location: enjoying the strangely cool August weather at my desk
Mood: nostalgic
Music: It's been a long night in New York City

Subscribe!

Like this post? Tell someone about it by clicking a button below.
Related articles