No one else to send it to
So it appears that none of the postcards I sent was received by the people to whom I sent it. I honestly wrote everyone that sent me an address.
I then gave them all to the two clerks at the Hotel New York in Rotterdam and had them mail it – they ran my Amex.
Bastards.
When I'm in a better place, I'll ask you to resend me your addys and I'll send you an NYC postcard.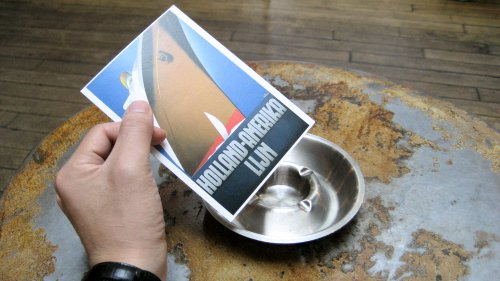 Him: (pointing to this card) There's just an address on this one, sir.
Me: It's for someone that doesn't know I still think of her. But I thought she'd like it.
Him: Doesn't she know your handwriting?
Me: Oddly enough, no.
Him: (politely) It's a pretty card, perhaps you can send it to someone else?
Me: (laughing) I've no one else to send it to.
Was locked outta my apartment for four hours yesterday, which was just plain awful. However, I did see GES yesterday for a 45-minute coffeebreak.
That was rather nice.
Location: 19:00 yest, in an office wondering what I've done
Mood: determined
Music: The day's still ashes and wine